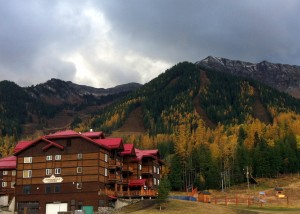 While the Labour Day weekend marks the end of summer operations at Fernie Alpine Resort, there are still plenty of reasons to come see the mountains up close at Fernie Alpine Resort this fall. September through November is the off-season at Fernie Alpine Resort, providing visitors with an excellent opportunity to enjoy the beautiful mountain scenery and autumn colors in a quiet, peaceful setting. There are numerous hiking and biking trails that start at the front door of the Griz Inn and explore the surrounding mountains. Historic downtown Fernie has plenty of places where you can shop or grab a bite to eat. The town's entertainment hub, The Arts Station, was formerly a train station; now it houses a restaurant, two art galleries, a pottery studio, and a 60-seat theater, which regularly features concerts and art shows.
Take advantage of our Fall Vacation Specials including our Third Night 50% Off Special.
Book Online or give us a call at 1-800-661-0118 to book your Fernie Alpine Resort holiday this fall!
Share This